Business proposals

Looking for a business partner or an investor? Want to start a business with a new business partner? If so, this section is the right place to start looking.
Useful addresses Galati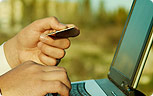 Here you can find the addresses of state institutions that might interest you.
Welcome to Galati !

Galati is one of the largest commercial traffic nodes in Romania

Galati is the capital city and the biggest city in Galati County. The county is located in the south-eastern region of Romania and shares a border with the Republic of Moldavia. The most recent census recorded a total population of 231,204 people, placing Galati on the 7th position in the country in what regards the number of inhabitants. The city's history is very rich, partly because it is located on the Danube River, part of the most important European commercial artery, the Rhine-Main-Danube Canal. It is one of the biggest economic centres in Romania. The local economy developed on pillars such as the Shipyard, the River Port, the Steel Plant and the Ore Port.

Read More

The Mayor's Message

"Our city has a fantastic potential for all investors interested in developing their business in our area. This potential is recognized since ancient times. Attracting large companies to develop their business here is one of the most important goals that I have set for the next period. I assure all those who want to develop projects in our city, create jobs and contribute to economic development of this area, of all the support they need. I would like to mention here the possibility to create exemptions from taxes and especially transparent communication and openness to honest dialogue. "